Molecular Microbiology SS 2021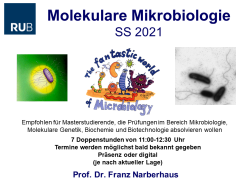 Recommended for master's students who want to take exams in Microbiology,
Molecular genetics, biochemistry, and biotechnology.
7 double sessions from 11:00-12:30.
Tuesdays from 11:00 a.m.-12:30 p.m. (presumably digital) on May 11, May 18, June 1, June 8, June 15, June 29 and July 6.
The Zoom link to the lecture can be found here.